Managing your account: Gambling block

Data published in February 2019 by the Gambling Commission showed that over 20% of survey respondents said that they'd gambled over two days a week in 2018.[1]
Gambling awareness has become a much talked about topic over the past couple of years and as technology has advanced, gambling has become more accessible to huge amounts of people. The idea of winning big is an enticing thought to many, but to some it can become a dangerous addiction with mental health and finances both at risk.
The Cashplus gambling block
Cashplus introduced the ability to block gambling transactions on our Current Accounts in 2018, allowing customers to request the block to be added and removed by speaking to our Customer Services team over the phone. But, with technology playing such a huge part in the accessibility of gambling, we wanted to make sure that we also used it to help prevent problems arising.
Now, using Online Banking and the Cashplus Bank App, our users can choose to 'switch off' transactions with bookmakers, casinos and other gambling merchants. In Online banking, the feature can be found in the menu under 'Manage My Account' by choosing 'Transaction Controls'.
If you're using the Cashplus Bank App, simply go to 'Cards' and select 'Transaction Controls'.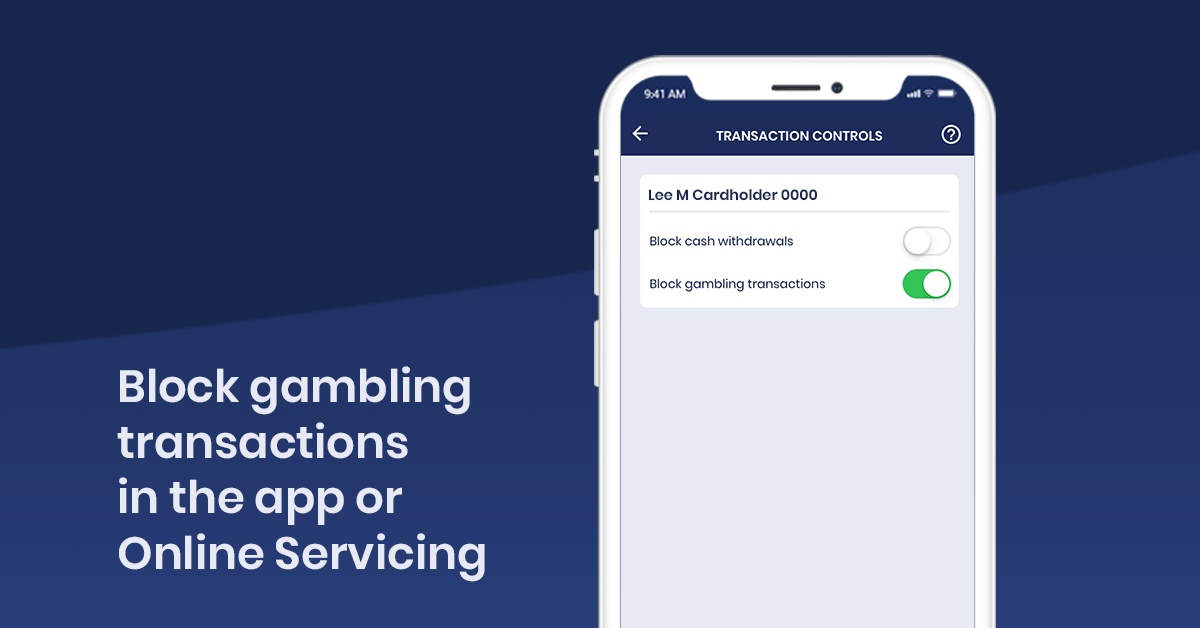 As well as enhancing the existing capabilities for our Bank Accounts, we became the first UK financial services company to offer a gambling block for credit cards. Gambling with credit is seen as a key issue by many campaign groups, with an industry consultation due to be carried out in 2019, and our credit block offers customers an easy way to restrict gambling spending. This feature is initially available through our Customer Services team, but work is planned for the future to introduce it to Online banking and the Bank app.
How does it work?
We're able to identify transactions made to gambling companies using something called a Merchant category code. This means that any transaction matching this criteria won't be able to be made if the gambling block is active.
What else are Cashplus doing to help gamblers?
As well as introducing the gambling block in Online banking, our Bank app and over the phone, we've introduced an ATM blocker. In conjunction with the gambling block, we've given our customers the ability to block withdrawals from ATMs, which we see as an additional point of 'friction' for people looking to restrict their spending on gambling.
If we're able to make a difference and help our customers with these new features, we'll be over the moon. If you ever feel like gambling is becoming a problem for you and you'd like to speak to someone about it, you can call the National Gambling Helpline on 0808 8030 133.
Sources
[1] https://www.gamblingcommission.gov.uk/news-action-and-statistics/Statistics-and-research/Levels-of-participation-and-problem-gambling/Gambling-participation-and-problem-gambling.aspx 
This content was created on 28th March 2019
Terms and Conditions apply, including applicants being resident in the UK & aged 18+ and, if relevant, businesses being based in the UK.
For full website terms including information on Cashplus Bank, Mastercard and use of Trademarks, please see our full legal disclosures at https://www.cashplus.com/legal/.
Advanced Payment Solutions Limited (APS), trading as Cashplus Bank, is registered in England and Wales at Cottons Centre, Cottons Lane, London SE1 2QG (No.04947027). APS is authorised by the Prudential Regulation Authority and regulated by the Financial Conduct Authority and the Prudential Regulation Authority under Firm Reference Number 671140.
APS provides credit facilities subject to approval and affordability, and where accounts continue to meet APS credit criteria.